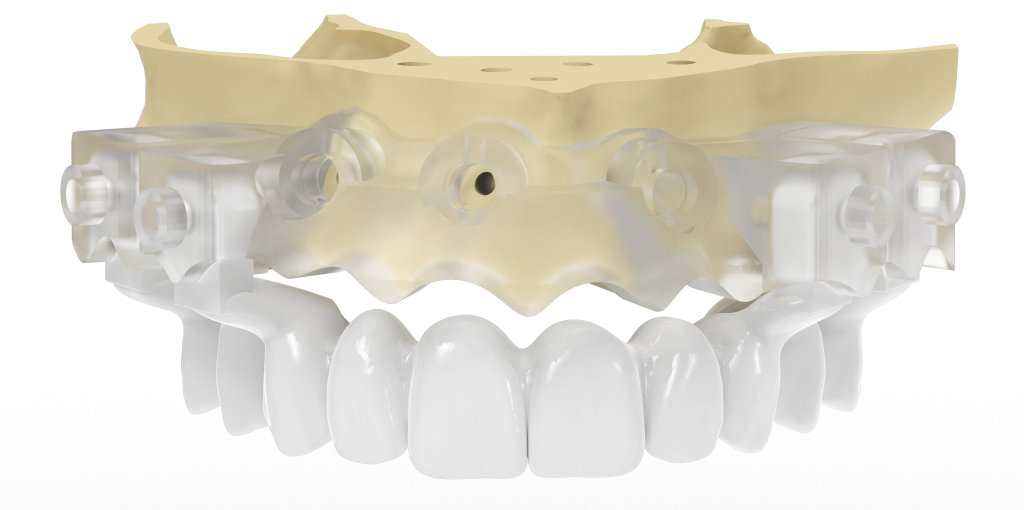 Introduction
In full-arch rehabilitation modalities involving implant-supported restorations, the prosthesis-tissue interface is of great importance. That's why great care should be exercised in order to obtain a seamless transition at the junction, particularly in cases where the gingival display is excessive. For that purpose, the role of bone reduction in All-on-X cases is to prepare the restorative space to receive the implants as well as to make for a natural transition between the soft tissue and the prosthesis. This results in a surface that can be cleansed easily using simple oral hygiene routines.
However, more often than not, bone reduction done with conventional CAD/CAM surgical guides is immoderate and the resulting implant-recipient area is unnaturally flush. This excessive tissue removal compromises the final prosthesis functionally, esthetically and biomechanically. This can range from prosthetic breakage to patients' dissatisfaction with the inferior esthetics of poorly-concealed prosthesis-tissue intersection. Poorly designed prosthetic contours make it difficult for patients to properly clean the area, which might lead to plaque formation and subsequent peri-implantitis. As a result, the chances of implant loss are increased, affecting the overall success rate of the All-on-X treatment modality.
What is the Scalloped Guide?
The Scalloped Guide is a reliable system for full-arch rehabilitation using FP-1 and FP-2 pink-free prostheses. Instead of considerably reducing bone and altering a patient's anatomy to create enough restorative space, clinicians can use the Scalloped Guide for precise, anatomically-conservative and minimally invasive tissue reduction.
Using this system results in life-like gingival esthetics without artificial, pink-colored material because the scalloped part of the guide helps the soft tissue adapt to the predetermined contour of the temporary restorations which supports the formation of interdental papillae later on.
3Sixty Scalloped Guide Package
The Scalloped Guide comprehensive package includes everything you need for FP-1 and FP-2 immediate load protocol.
Analog model
Articulation piece
Verification Mount
Scalloped Guide (i.e. bone scalloping guide)
Implant Placement Guide
Immediate-loading PMMA temporary restoration
Bone Screw Kit
What makes the Scalloped Guide different?
The Scalloped Guide system helps clinicians achieve preplanned, and therefore, predictable and precise bone reduction at the implant-recipient area. Bone reduction is usually indicated in cases of terminal dentition where dental implants are to be placed after the surgical extraction of the remaining teeth that have unfavorable prognosis. The Scalloped Guide allows for precision bone sculpting, unlike any other guide. The purpose of this is twofold:
Creating an ideal restorative space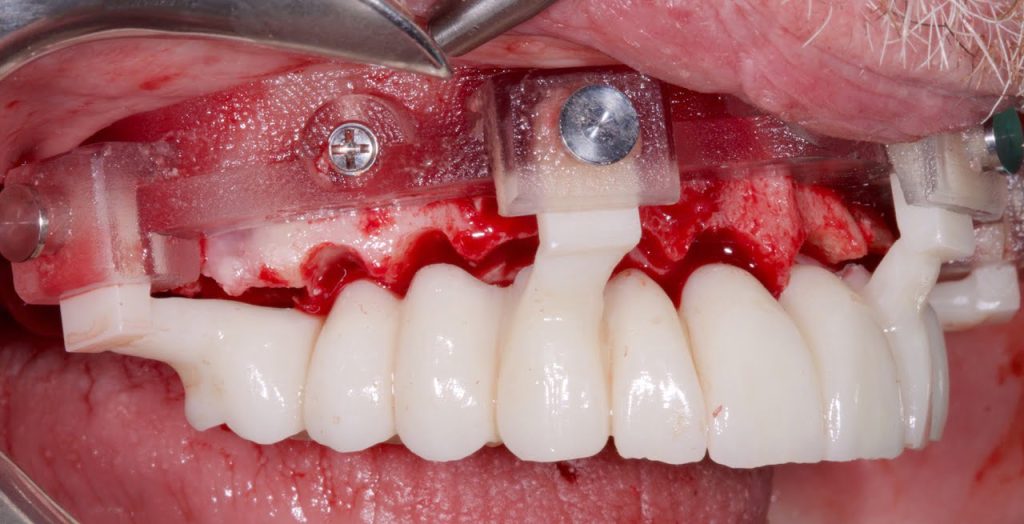 To achieve functional clearance, the planned All-on-X prosthesis needs an interarch restorative space that's large enough to accommodate implant placement as well as the prosthesis itself. Interarch restorative space can be defined as the space measured between the crest of the ridge of one arch to the occlusal surface of the other arch.
Improving the implant-placement area
Flat plane reduction is used to widen the thin (i.e. knife-edge) bony ridge and thereby improve the implant-recipient site architecturally. Too much or too little bone reduction will compromise the alveolar bone, resulting in inaccurate placement of implants as well as inadequate restorative space. The Scalloped Guide avoids this by conserving the bone through extreme precision cutting.
Various types of surgical guides currently exist, including tooth-supported, mucosa-supported and bone-supported. Although tooth-supported CAD/CAM guides have been reported to have the most stability, they can't be used in completely edentulous patients. Therefore, to increase the mechanical stability of mucosa- and bone-supported surgical guides, the use of anchor pins to stabilize the guides during surgery is indicated. In the Scalloped Guide system, to further eliminate cantilever or rocking effects, fixation screws are used to secure the guide in place.
The Scalloped Guide
Is a conservative, minimally invasive and tissue-preserving system.
Allows for precise sculpting of the bony ridge.
Reduces the bone to the desired esthetic contours required for each case.
Is small, lightweight, stable and made from transparent resin for increased visualization.
Is prosthetically-driven from the very beginning of the treatment planning phase.
Ensures precise, preplanned and predictable guided implant placement according to the prosthetic requirements.
Helps achieve the ideal restorative space and functional clearance.
Minimizes postoperative pain and swelling with accelerated healing time.
Makes same-day loading of temporary PMMA possible.
Has a streamlined, team-oriented digital workflow which cuts down on chair time and eliminates undue stress.
When to use the Scalloped Guide?
Evidently, bone reduction will depend entirely on the amount of remaining bone already available to be reduced.
Cawood and Howell Class I (i.e. terminal dentition patients), Class II (i.e. post-extraction, completely edentulous patients), and Class III (i.e. completely edentulous patients with rounded ridges of adequate height and width) have minimal bone resorption. Such patients are good candidates for guided bone reduction and implant placement surgery needed for All-on-X restorations.
Conversely, patients classified as Cawood and Howell Class IV, V and VI have markedly resorbed ridges, and would benefit more from alternative restorative treatments such as implant-retained overdentures. Inadequate height and width of the remaining bone in such cases require relatively large prostheses to compensate for vertical and horizontal tissue loss, as well as support the cheeks and lips. Fixed prostheses, therefore, are contraindicated for patients with extensive bone resorption as there's an increased chance of plaque-related peri-implantitis and subsequent implant failure.
Types of Scalloped Guide Restorations
FP-1
FP-1 prostheses mimic the appearance, size and contour of only the crowns of the patient's missing teeth. They are typically indicated when the patient has minimal loss of bone and soft tissues.
Since an edentulous patient is lacking in the width and height of their crestal bone, clinicians often have to do bone augmentation before placing implants so the crowns appear natural in the cervical region. Also to avoid the presence of black triangular spaces in the place of interdental papillae as a patient smiles, clinicians often carry out soft tissue augmentation as well.
FP-2
FP-2 restorations appear to replace the crowns and portions of the missing teeth's roots. Because they are hyper-contoured and longer than healthy teeth, these restorations are used for edentulous patients with moderate bone loss to compensate for the increased clinical height.
With such an elongated design, the patient's esthetic zone dictates whether they are eligible for FP-2 prostheses, provided that they're also fully informed about how their restorations would eventually appear.
The esthetic zone is established by observing the patient's maxillary arch while smiling and mandibular arch during speech of sibilant sounds. Ideally, an FP-2 case's upper lip during smiling and lower lip line during speech should not expose any of the interdental papillary regions.
How to use the Scalloped Guide?
3Sixty's digital workflow for the Scalloped Guide system can help you reach highly-successful outcomes with every case. After case selection and sending in all the case requirements, the treatment planning phase kicks off. Treatment planning is carried out by our 3Sixty Dentists; these are actual dental practitioners who are passionate about digital planning and guided implant surgery. 3Sixty dentists are elite treatment planners who have real-life clinical experience and hundreds of cases under their belts.
After you review and greenlight the patient's treatment plan, our CAD/CAM engineers take over to design the Scalloped Guide and its associated stackable parts. Finally, all the pieces are sent in for 3D printing and are ready to be delivered to your office, complete with a precise drilling protocol, PMMA provisional restorations and everything that will be needed on surgery day.
If it's your first time doing this type procedure, you can request one of our experts to come in on surgery day and walk you through the surgical and prosthetic workflows, answer any questions you may have as well as provide intraoperative assistance.
How to get started?
All you need to do to get started is simply book a free demo here: https://3sixtydental.com/scalloped-guide/